What's making you so tired all the time? Stress, poor eating habits, overwork, even medical treatments can wear you down and cause fatigue.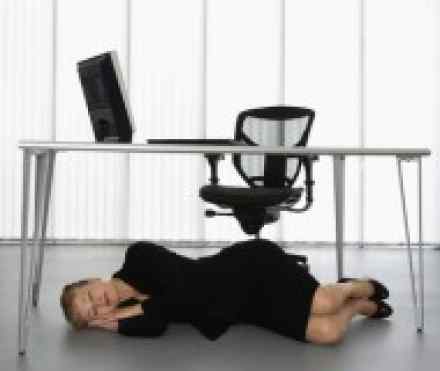 What is it?
Fatigue isn't the same thing as sleepiness, although it's often accompanied by a desire to sleep — and a lack of motivation to do anything else.
In some cases, fatigue is a symptom of an underlying medical problem that requires medical treatment. Most of the time, however, fatigue can be traced to one or more of your habits or routines. Chances are you know what's causing your fatigue. And with a few simple lifestyle changes, it's likely that you have the power to put the vitality back in your life.
Causes
Taking a quick inventory of the things that might be responsible for your fatigue is the first step toward relief. Three general areas cause most cases of fatigue:
Lifestyle problems. Feelings of fatigue often have an obvious cause, such as sleep deprivation, overwork or unhealthy habits.
Psychological problems. Fatigue is a common symptom of mental health problems, such as depression and grief, and may be accompanied by other signs and symptoms, including irritability and lack of motivation.
Medical problems. Unrelenting exhaustion may be a sign of an underlying illness, such as a thyroid disorder, heart disease or diabetes.
Common causes of fatigue include:
How do you treat it?
Like any disease, even if there is no cure, there is almost always something you can do to manage it and take control. There are three main areas involved in the treatment of any disease:
For information on medicines and therapies relevant to Fatigue, make an appointment at Lynch's pharmacy, Broadale, Douglas, Cork on 021-4366923.
Learn all about the drugs used to treat the disease and any complementary medicines or therapies proven to help. Equip yourself with the tools to manage the condition and not be managed by it.
How do you live with it?
Certain adjustments may be needed to get on with your life, and often, some simple tips and advice can go a long way to making these changes.
When you come to a Lynch's Pharmacy Clinic, we give you all the necessary information available to make your life more manageable and allow you to better live with your condition.
References
Fatigue-http://en.wikipedia.org/wiki/Fatigue
Fatigue, a comprehensive overview http://www.mayoclinic.com/health/chronic-fatigue-syndrome/DS00395/DSECTION=symptoms
More Videos...